Kenya Quick Facts: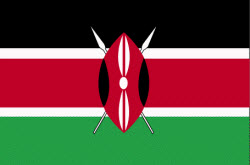 Time: GMT/UTC +3
Population: 40,046,566
Borders: Ethiopia, Indian Ocean, Sudan, Tanzania, Uganda
Seasons: Rainy (March to May, October to December), dry (January to February, June to September)
Telephone: Country code - 254
Budget: US$75+ a day; An African safari could increase expenses significantly
Capital: Nairobi.

What Is The Capital Of Kenya


Visa: $45 USD for single entry; $75 USD for multiple entries; 30 day maximum stay. Kenya Visa Options
Languages: Official language: English, Kiswahili; Other language: Numerous tribal languag.
Area: 580,367 sq km
Travel Warning: U.S. Department of State - Bureau of Consular Affairs -

Current Travel Warnings




Kenya
Flights To Kenya From Heathrow
| | |
| --- | --- |
| | Planning a trip to any place in the world can be quite a cumbersome task with decisions of caching in some money for spending on your holiday lurking high in your mind. Hence, the very first criteria while planning a holiday from Heathrow to Kenya is to check out for cheap flights that will help you in saving a lot in the journey and spend on more significant things. If you are in London, there are plenty of flights flying from Heathrow airport to this African country with popular airlines such as British Airways, KLM, Kenya Airways, Swiss Air, Qatar Airways offering mind blowing discounts and offers on flights. More... |
Information On Kenya For Students
| | |
| --- | --- |
| | The Republic of Kenya is an African country located in the east cost of the continent along the Indian Ocean. It shares its borders with Ethiopia, Somalia, Tanzania, Uganda and Sudan. Named after Mount Kenya (God's resting place in local language), the country is home to many indigenous tribes and is a treasure trove for students of history and sociology. The main geological areas of the country are the long sandy shore line, the Great Rift Valley and the Central Highlands. The climate is warm and balmy towards the shores and dry and sunny in the inland areas. More... |
Is It Safe To Travel To Kenya
| | |
| --- | --- |
| | Kenya has emerged to be a very popular tourist destination over the last few decades. Visitors from Europe and America travel to Kenya for vacations in the beautiful sandy white tropical beeches and a number of wildlife sanctuaries and parks in the country. The tourism sector is the largest private sector contribution to the economy of the country. While the natural abundance makes Kenya one of the top travel destinations in Africa, you need to take some precautions to ensure a safe trip. More... |
Kenya Overview Travel Guide
| | |
| --- | --- |
| | The mesmeric African country of Kenya, lying astride the Equator, is a dazzling cornucopia of natural things, teeming with wildlife, stunning mountains, bewitching beaches, ravishing rainforests, magnificent mountains, beckoning coral reefs and bustling culture and people. Nicknamed as the Land of the Lion King, Kenya not only lures people to its diverse animal life and national safaris, it is also a land of colors, of scenic beauty, of lakes and beaches and mountains - all packed into one small confinement. More... |
Train Travel In Kenya
| | |
| --- | --- |
| | Kenya is one of the top wild life and beach vacation destinations in Africa. The country has vast expanses of wild life sanctuaries and resorts where you can enjoy an abundance of diverse flora and fauna as well as white sandy beaches stretching into the blue and green Indian Ocean. While you can travel within Kenya by road or air, the train network is rated as the top modes of travel by the visitors to the country. More... |
Independent Travel In Kenya And Tanzania
Independent travelers are those sections of people who just want to travel around a country as per their convenience and comfort rather than booking a holiday through a tour operator. Kenya and Tanzania are two great destinations for independent travel in Africa.

More...