Egypt Quick Facts: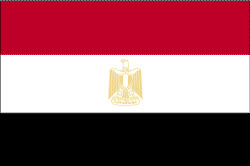 Time: GMT/UTC +3
Population: 80,471,869
Borders: Mediterranea Sea, Red Sea, Sudan, Libya
Seasons: Hot (May-October), cool (November to April); very little precipitation, mostly along the coast.
Telephone: Country code - 20
Budget: US$50-$100 a day
Capital: Cairo
Visa: $15 USD for single or multiple entries, 30 day maximum stay
Languages: Official language: Arabic; Other language: English, French
Area: 1,001,450 sq km
Travel Warning: U.S. Department of State - Bureau of Consular Affairs -

Current Travel Warnings




Egypt
How Many Sides Does An Egyptian Pyramid Have
This is not supposed to be a trick question. The traditional Egyptian pyramid has five sides to it. People often times forget the base of the pyramid being a side. The base is the foundation of which makes it possible for the pyramid to be built upwards. These pyramids were built as burial tombs for the pharaohs of the old and new kingdom. It would become the final resting spot for the human side of the pharaoh before he would ascend into the heavens as a god. More...

More Articles:
Why Pyramids Were Built ?
| | |
| --- | --- |
| | A pyramid is a massive structure built as a tomb or grave to house the mortal remains of a ruler and his kin. The largest pyramid was built for the king while several smaller pyramids were placed around it for his queens.More... |
Ancient Egypt Pyramids
| | |
| --- | --- |
| | The Great Pyramids of Egypt have always been considered as one of the most enduring symbols representing the architectural excellence of ancient Egyptian civilization. More... |
Ancient Egyptian Fashion
| | |
| --- | --- |
| | Apart from the Great Nile River running through the length of Egypt and several architectural monuments, the country is also known for its hot and horrid climate. This was an important factor that had predominantly influenced the lifestyle and fashion of people in Egypt during ancient times.More... |
Queen Cleopatra Of Egypt
| | |
| --- | --- |
| | Queen Cleopatra is one of the most famous characters in ancient Egypt known widely around the world. Considered as a symbol of elegance, style and beauty, Queen Cleopatra of Egypt is considered as the last Pharaoh of Egypt by historians.More... |